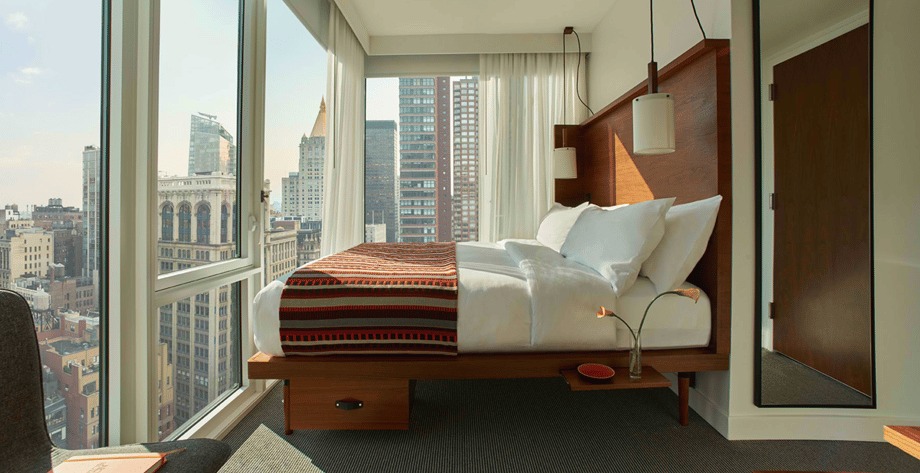 Arlo NoMad, a trendy but comfortable boutique hotel in the Flatiron area of Manhattan, prides itself on the unique experience it provides to guests. Partway through construction of the Arlo NoMad and its sister hotel, Arlo SoHo, Allbridge was brought in to assist at a critical juncture in the business - to fix and complete work that a previous partner had begun and abandoned. Allbridge not only installed its high-speed Internet and hosted voice solutions, but assisted Arlo NoMad in completing the low-voltage design and cabling for the hotel.
Arlo NoMad was featured in an Allbridge case study including interviews with Javier Egipciaco, Managing Director of Arlo Hotels, and Bob Murphy, Allbridge VP of Global Sales. The full transcript of the video is below.
---
Bob Murphy: "My name is Bob Murphy, I'm Vice President of Global Sales for Allbridge. I love the Arlo because of its culture. It's got a really good vibe. It's almost like coming home. Grab a cup of coffee, sit down on a nice, comfortable couch, and you can work. It's cutting edge. When I first met the Arlo team, fifty percent of the infrastructure was already in place. They had a lot of problems with the infrastructure, and by picking our company, we were able to help Javier and his team. We wound up finishing the cabling job for them, helped them with a lot of things we don't normally do, but that's something that Allbridge does all the time."
Javier Egipciaco: "Allbridge was the one-stop shop for us. Having one vendor to go to with Allbridge is great for us, and I can focus on other parts of the development and not have to worry about it. I'm looking for a partner who knows technology. I'm not proficient in technology, and I need to be able to rely on a partner to keep me informed on what's available, what's in the markets. Being able to take this information, learn from them, and ultimately make decisions that benefit the experience of the guest - and having someone available to you at all times, to answer all of your questions, to really work out of the box and maybe even provide services that are not necessarily part of Allbridge's offerings. They did what it look to get us open and get us ready. Calling Bob at one o'clock in the morning and saying, 'We need to open this hotel in seven hours and the Internet's not working' and he actually picks up the phone - those are times that are nerve-wracking, but they also establish the relationships that we do have and at the end of the day, Bob picks up that phone and he's in our hotel an hour later making sure that we are ready for that opening."
Bob Murphy: "Many, many times I'd get phone calls or texts at nighttimes, weekends, holidays - and the Allbridge team and the Arlo team were married and are going to work together for years and years. The Arlo team knows by name and has telephone numbers of every one of our project managers on all of our components of what we put in here, and it's just a great working relationship."
Javier Egipciaco: "The level of partnership is important. The days of installing equipment or selling equipment and then forgetting it and walking away from the project, that's not acceptable anymore. This three-sixty degree of service, that for me is the most important as far as development and maintaining guest satisfaction."
Bob Murphy: "Right now, high-speed Internet is the most important thing outside of cleanliness in a hotel room. The fact that Allbridge today can do the TV, the phones, and the high-speed Internet under one company puts us aside from all of our competition."
Javier Egipciaco: "Whenever we have questions, even if we're not working on a project, I can reach out to Allbridge and say, 'Hey, what do you think about this model TV? What do you think about these routers that are coming out? I read this article that technology is changing in our space, what are your thoughts?' Whether or not I have a project going on with Allbridge, they'll answer the question."
Bob Murphy: "Allbridge. One Connected Experience."
---
Watch the full case study here:
---