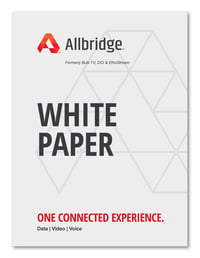 In the past, businesses would use several different networks to deliver data, video, and voice to their end-users. Though these disparate networks would do the job, they were often complicated to manage and increasingly expensive in an age when cable rates continued to increase.
Making matters worse, when property managers had a problem and weren't sure what caused it, they'd have to call three different vendors to troubleshoot the issue.
Managing technology systems is becoming increasingly complicated. Knowing there must be a better way forward, many businesses have installed a converged network—a network that delivers data, video, and voice. As a result, they only need to manage one network and deal with a single vendor from initial design, to installation, to support.
Benefits of a converged network, include:
Cost reduction

Increased performance

Easier management and supportability

Greater flexibility and growth
To learn more, complete the form to download our Benefits of a Converged Network whitepaper.