Over the last 14 years, the cloud has grown from an exciting new technology championed by early adapters into a must-have for organizations across all industries. To take advantage of cost savings, scalability, flexibility, and reliability, businesses are increasingly moving their workloads and tools into the cloud. The trend is no different in the Hospitality industry. Today's leading Hospitality properties are moving to hosted voice solutions, i.e., phone services that are delivered via the cloud, resulting in both lowered costs and happier guests. For example, Marriott is one major brand that has moved its voice services entirely to hosted solutions.
If your hotel is looking to upgrade its voice offerings, you should consider whether hosted voice solutions work best for your specific situation. With a strong hosted voice solution in place, your property will enjoy reduced capital expenses while concurrently reducing operating expenses, thanks to the power of the cloud.
Beyond that, leading systems will be easy to maintain, manage, and learn. It will also be packed with a ton of features designed to increase staff productivity and offer your guests exemplary experiences.
Here are four reasons why today's leading hospitality properties are increasingly moving to hosted voice solutions.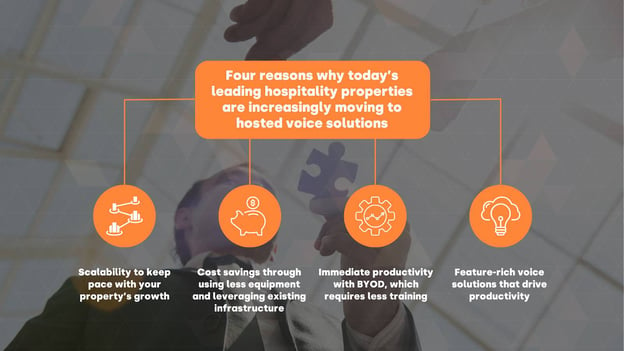 1. Scalability to keep pace with your property's growth
It's important to invest in technology that is capable of scaling to accommodate your Hospitality property's growth.
Thanks to the cloud, hosted voice solutions can future-proof your property's communications needs. Not only can hosted voice solutions support growth in rooms and users, but they can also be automatically updated to ensure your systems stay on the cutting edge of technology—and that your guests and employees always have access to the latest features.
2. Cost savings through using less equipment and leveraging existing infrastructure
Hosted solutions can sometimes leverage existing voice equipment on-site. For example, if you have a PBX system, you can migrate to a hosted solution without having to replace the existing infrastructure.
SIP trunking enables properties to extend their legacy systems through connectivity. As a result, you can keep your existing phone numbers, route calls through the Internet, and employ failover solutions that can keep your system online in the event the Internet goes down.
If you don't want to utilize your existing infrastructure, you can still save money. Leading hosted solutions are handled by the vendor and usually don't require additional investment in on-premises equipment or hardware.
3. Immediate productivity with BYOD, which requires less training
With a modern system in place, your guests and employees will be able to bring their own devices to your property, connect them to your network, and use them like they would in their homes.
This results in immediate productivity because neither employees nor guests need additional training or troubleshooting with a system on-premises. You'll have more time and resources available to focus on other critical areas of operations within your property.
4. Feature-rich voice solutions that drive productivity
With a hosted voice solution in place, employees and guests alike will be able to get a lot more done on the phone.
Guests can work out of their hotel room as if they were in their own offices, and your employees will also have access to a number of game-changing features, including:
Auto-attendant
Conference bridges
Smartphone, tablet, and laptop integration for desktop sharing, video conferencing, and collaboration
Caller ID
Unified communications integrations
Remote network and voice quality monitoring
Music on hold, customizable with your song of choice (just upload a .wav file!)
Real-time failover
24x7 help desk support
Enterprise voicemail
With the right hosted voice solution in place, your property can get up and running quickly, with turnkey implementation and ongoing installation and support services. When considering a new voice solution, conduct due diligence to understand the level of service that each vendor offers.
Are you ready to migrate to a hosted voice solution?
Despite the fact that guests are using in-room telephones less frequently, voice solutions still play an integral role in delivering exemplary guest experiences. By moving to a hosted voice solution, your Hospitality property can future-proof its voice needs while increasing profitability, improving staff productivity, and delighting your guests along the way.
To learn more about how hosted voice can help you

avoid

downtime and lower your expenses, click here.