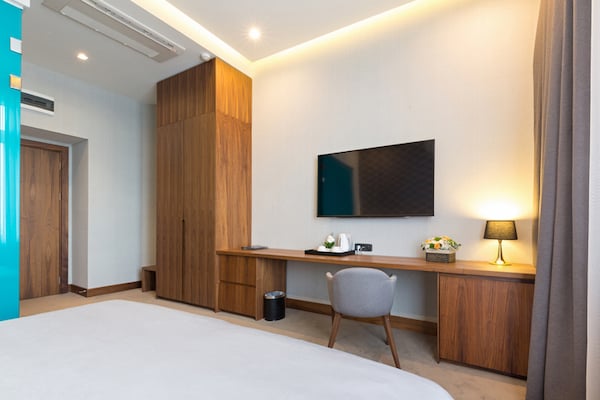 The television plays an enormous role in how hotel guests and senior living residents feel about their experiences. A sub-optimal television setup might make them think twice about whether they're choosing the right hotel or living at the right community; a state-of-the-art system can make them feel right at home.
Allbridge has established trusted partnerships with leading electronics manufacturers and content providers to deliver premium experiences for our customers. Our partnership with Samsung enables us to deliver commercial-grade television systems that are configured and installed to meet your property's unique requirements.
When searching for a new video solution for your hotel or senior living property, you'll quickly find out you have a lot of options at your disposal. We hope to make your choice easier.
Get the perfect televisions for your hotel or community.
What kinds of features does your new television system need? Here are some questions to consider as you zero in on the perfect model:
What kind of energy-saving features am I interested in?

Do I need a swivel stand that rotates for versatile viewing?

What kind of content management system do I need (e.g., Samsung LYNK REACH® 4.0)?

Do I need HD content decryption DRM?

Should I get a smart television or a non-smart television?

Should I look into IPTV systems?
We carry all varieties and sizes of each model, so you won't have a hard time finding the perfect television for your property.
Take advantage of price discounts.
Traditionally, hotels and senior living properties pay less for televisions than what homeowners pay for the set in their homes. Thanks to Allbridge and Samsung's partnership, your property can upgrade its entire television offering while taking advantage of consolidated service discounts.
Additionally, Allbridge passes on Samsung promotions to deliver additional savings for your property. You can typically expect a free TV offer that can bolster your bottom line even more.
Manage in-room content from a single location.
Our partnership with Samsung enables us to install Samsung's Remote Enhanced Active Control for Hospitality (REACH) hardware and software solution that allows properties like yours to manage in-room content from one location.
REACH enables you to create and share custom content across single screens—or entire screen blocks. Beyond that, REACH delivers several other benefits, including:
Versatile customer engagement. Thanks to REACH, televisions can transform into digital concierges.
Personalized, full-stay service. Residents can use REACH to communicate with staff to deliver a more personalized experience.
User-friendly application and settings. Residents can also use REACH to customize their experience on their own.
Know your network is configured efficiently and reliably.
You might sign a contract for the best television solution in the world. But if it's not installed correctly, it provides no value to your property.
We design our own systems and build and test our own color-coded cables so we can ensure that every piece of equipment we use is high-quality. When we work with properties, we make sure that the system runs optimally, handle the installation, and leverage existing infrastructure whenever we can.
There's no point in trying to install something in-house if you lack the expertise. You might "save money"—but at what cost to your hotel or community?
Access top-notch support just a phone call away.
We offer 24/7 support every day of the year. If your team runs into any issues with your video solution, we'll help you get things back to normal as quickly as we can. In addition to our troubleshooting guides and videos, a licensed technician is just a call or email away if you need more technical assistance.
We also try to design our systems in a way that makes them easy to manage. For example, our unique color-coded cables enable us to deliver remote support with ease. When a system isn't working correctly, it's very easy to point someone to the cable that has the red connector on it to see whether it's plugged in.
Combining Samsung's high-quality equipment with Allbridge's dedicated installation and support allows you to have peace of mind that your video solutions are well-managed, leaving you and your staff more time to take care of your guests and residents.