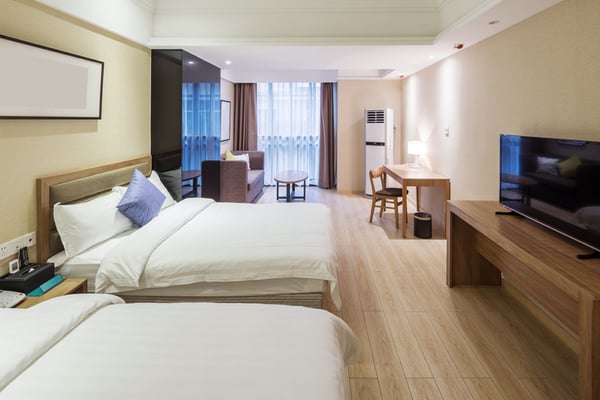 As the manager of a hotel, you need a modern television system to ensure the comfort of your guests. How can you expect anyone to feel at home if they can't watch their favorite shows or, worse yet, can't figure out how to operate your system because it was installed more than a decade ago?
When hospitality managers decide to upgrade their data, video, and voice systems, they have their work cut out for them. With so many options on the market, choosing the right solution for your hotel or property can be tricky.
The good news is that there are a number of options available to general managers to help ensure your guests enjoy a superior entertainment experience.
Allbridge and LG have teamed up to deliver best-in-class in-room entertainment solutions that ensure your guests enjoy a high-quality entertainment experience on an LG television in the guest room.
Thanks to LG's Pro:Centric® application and Allbridge's video solutions, guests are not only able to watch the programming that interests them the most, they're also able to find a wealth of relevant information about property amenities, weather, and local events.
How can your hotel benefit from the partnership between Allbridge and LG? Here are four advantages you can't afford to go without.
1. An improved guest experience
Pro:Centric—which is compatible with hospitality-grade LG televisions—improves the stay by making it easy to access entertainment and find information about onsite dining, property amenities, local events, and events.
Users no longer have to spend several minutes trying to track down their favorite programs. They also don't have to worry about missing out on hotel services because they simply didn't know they were available.
2. Simplified management
The Pro:Centric Admin Client is accessible via the internet using VPN service and a standard web browser, to provide users with full customization tools as well as a full suite of features to manage and support the Pro:Centric system.
Additionally, users can view system status and server settings, and manage television configurations and software updates from one centralized location.
3. Digital concierge
Pro:Centric doubles as a digital concierge. The solution enables managers of the property to customize a property-branded welcome page to provide critical information to guests every time they turn on their video system.
What's more, your team can also use a built-in, web-based editing tool on Pro:Centric to create digital "billboards" that advertise amenities and features. Not only does this add value for your guests, it reduces costs for printing in-room materials to promote hotel dining services, parking and valet information, and other hotel offerings.
These features make it easier to maintain open lines of communication with your guests, ensuring they are better informed about what's going on at the hotel.
4. More convenience
Guests will enjoy how Pro:Centric makes entertainment simple. The system includes a program guide that is easy to navigate, ensuring people will be able to find content they like quickly.
But the convenience doesn't stop there. Pro:Centric can be used to access local weather forecasts and radar conditions provided by AccuWeather. The system can also be used to set up wake-up calls—directly from the television remote.
If you're the manager of a hotel looking to upgrade your data, video, and voice network, LG's Pro:Centric system, delivered and installed by Allbridge, may be the perfect complement to your entertainment solution.