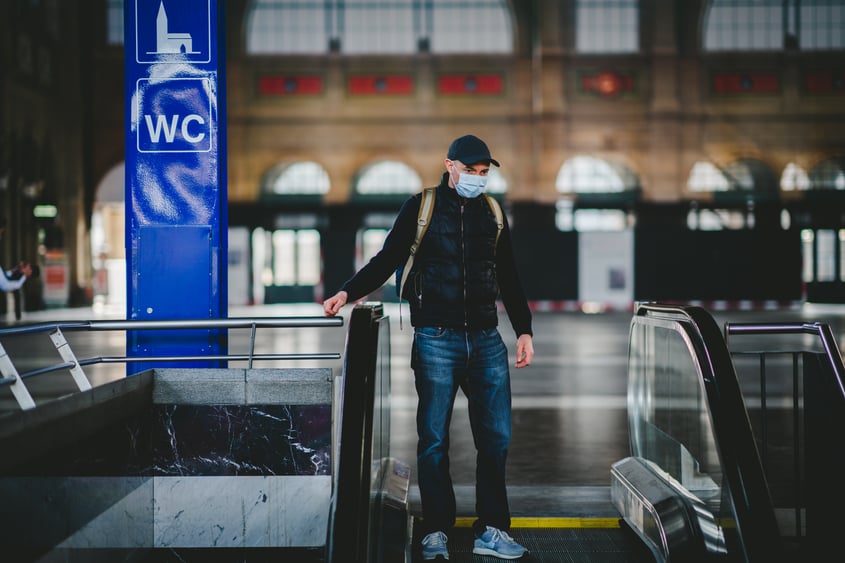 Life in the United States has changed dramatically since the outbreak of the novel COVID-19. The first reported case in the U.S. was in Washington state on January 21st, 2020, which affected a U.S. citizen who had recently flown home from Wuhan. On January 30th, the Word Health Organization (WHO) named COVID-19 an international public health emergency, and on Friday, March 13th, President Trump declared the COVID-19 outbreak in the United States a national emergency. State officials began announcing school closures, while many workers, including Allbridge employees, were directed to begin social distancing practices by working remotely from home.
Presently, the majority of states in the U.S. have stay-at-home orders, with citizens permitted to leave the house only for Essential Activities.
While slowing the spread of the virus and preventing as many deaths as possible is the priority, many United States citizens are expressing concerns for how the economy is being affected as well, with Bank of America asserting that "the US economy has [already] fallen into a recession." Along with airlines and restaurants, some of the most impacted businesses are hotels.
"The U.S. hotel industry employs over 1.6 million Americans, making it the ninth-largest sector in the U.S. in terms of total workers. But as people have stayed home, demand for hotels has declined sharply. In the first week of March, there was an 11.6% decline in revenue per room available in U.S. hotels compared to the same week of 2019," according to hotel research firm STR.
Major brands have had to make drastic changes to their business operations during this time, including temporary furloughs. Luckily, legislators have begun to move forward with measures to provide aid.
The Families First Coronavirus Act was quickly passed, and contains measures to provide paid sick leave, food assistance, and financing for coronavirus testing. According to the U.S. Chamber of Commerce, hoteliers with fewer than 500 employees will be required to provide for emergency paid sick leave, as well as paid family leave in the case of school closures for working families impacted by coronavirus. Employers will be afforded a refundable payroll tax credit to cover 100 percent of the cost of wages.
The Senate also recently passed the Coronavirus Aid, Relief and Economic Security (CARES) Act. The legislation includes payments for millions of Americans, unemployment benefit expansions, and loans for struggling businesses. Chip Rogers, President and CEO of the American Hotel and Lodging Association (AHLA), and Cecil Station, President and CEO of the Asian American Hotel Owners Association (AAHOA) have expressed appreciation for the legislation, but neither believe it does enough for hotel owners, citing limits on the loans and administrative hurdles that make the plan unworkable for hoteliers.
"We urge the House to swiftly take up this legislation, while making these important changes." says Rogers. "The Hospitality industry stands ready and able to do whatever we can to make it through this unprecedented crisis, while building a foundation for a stronger tomorrow."
AHLA has launched a new initiative called "Hospitality for Hope" to identify properties that would be willing to provide temporary housing for emergency and healthcare workers as the COVID-19 public health crisis grows. While the program is primarily focused on housing for the healthcare community, some hotels could potentially be used as "Alternative Care Sites," such as an emergency hospital or place for those quarantined to stay if needed. Over 15,000 hotels have signed up since the initiative was announced.
Some hotels have already been repurposed in more affected areas to support efforts against the spread of COVID-19. Los Angeles Mayor Eric Garcetti is looking to hotels and motels to shelter thousands of homeless residents as part of the city's emergency response, noting that removing the 30,000 homeless people in LA from the streets is critical to controlling the spread of the virus.
"This is an immense undertaking logistically and it's never been done this quickly in a city, anywhere," Garcetti said. "If we don't get folks off the street, they will become the main spreaders or among the main spreaders of COVID-19 and a threat to themselves."
A Ramada by Wyndham in San Diego confirmed it will be turned into a quarantine site to house individuals exposed to COVID-19. The hotel has been completely secured from the public, with a strong law enforcement presence.
"We all have a humanitarian responsibility to assist during this health crisis," said hotel owner, Maurice Correia. "These coronavirus individuals being housed at our hotel are not sick enough for hospital care and need to go someplace to be monitored through the incubation process. We are working with Government authorities to do everything we can to help and protect our citizenry from further exposure."
Additionally, Nathan Fletcher, the County Supervisor for San Diego's 4th Supervisorial District, said that 1,472 motel rooms are available for individuals who have tested positive but don't have the ability to isolate at home. This may include homeless individuals, senior citizens in senior living facilities, or people who live in a small apartment with others.
Despite the widespread panic, the silver lining presents itself as so many in these affected areas joining together in humanitarian efforts and actions to reduce the spread. Allbridge continues to provide service to its customers, and is working to support properties whose businesses are negatively affected.
The Hospitality industry has proven itself to be incredibly resilient, having overcome a range of past crises such as natural disasters, acts of terrorism, and other disease outbreaks. Hoteliers are urged not to panic, as current data shows that the industry is expected to bounce back once again.
"Hotels will re-open... The hotel industry recovered quickly following the containment of SARS in 2003, and the hope will be that a similar pattern will emerge after COVID-19 has run its course." says Ralph Hollister, Analyst, Travel & Tourism at GlobalData.
While the industry looks forward to days beyond this crisis, we are sincerely grateful for the many ways that our hotels are helping those in need in our communities during this time.