Are you considering upgrading your property's voice solution? Let's explore the benefits and things to consider before you make the move.
In the past, when it came to choosing a voice system for your hotel, you essentially only had one option: investing in an on-premise system that's powered by locally installed hardware at your property. Thanks to the evolution of technology, Hospitality properties now have another option for voice solutions: installing a hosted solution that's delivered from the cloud.
If you're thinking about potentially upgrading to a new voice system, you'll need to figure out whether it makes more sense to install a cloud-based or an on-premise solution. First, you'll need to understand the differences between these two types of voice solutions—as well as the benefits and challenges of each.
Hosted Voice
Hosted voice is delivered from the cloud. Thanks to cloud design, Hospitality properties that use hosted voice don't have bulky equipment consuming space, air conditioning and power resources from your property. In addition to not having to find physical room to store equipment, Hospitality companies that choose hosted voice solutions also avoid the hefty capital expenditures and pricey monthly circuit (T1/PRI) costs associated with traditional premise based systems.
Hosted voice solutions enable general managers to take advantage of several benefits delivered from the cloud—benefits that often can't be replicated in on-premise systems. For example, because the system is connected to the cloud, the underlying software is automatically updated when new versions are released. As a result, you get the peace of mind that comes with knowing you'll always be able to leverage the latest technologies and services. What's more, cloud connectivity makes it much easier for technicians to maintain and update your voice solution remotely; all of your systems and network are monitored and supported remotely.
The cloud also enables you to unlock additional efficiency gains through features such as skills-based call routing that automatically sends calls to the people who are best qualified to answer them. Beyond that, leading hosted voice solutions deliver a number of robust features—including real-time failover solutions found in 4G-LTE wireless and POTS lines, meaning that your voice solution will stay online even in the event your ISP network goes down.
Because hosted voice systems are delivered as a Software as a Service (SaaS) solution, you only have to pay one monthly subscription fee, the rest is included. By partnering with the right provider, you won't have to worry about any unexpected increases to your monthly bills.
The Allbridge Hosted Voice Solution registers all telephone licenses free directly to the cloud over your existing HSIA ISP Internet connection for voice calls and unified communications—eliminating your current and future cost of traditional T1s, PRIs and SIP trunking.
Premise Voice
As the name suggests, premise voice is an on-site voice system that requires you to store hardware on your property. However, unlike the sizeable PBX systems from the past, premise voice systems require a minimal amount of space compared to analog phone solutions. They are often valuable for large properties that need enterprise-level services.
Full PropTech Solutions are engineered with enterprise-grade architecture and SIP circuits that enable SIP trunking to build in redundancy. SIP trunking is important in the event a network outage occurs; your voice system will remain online and call quality won't suffer.
Premise voice solutions designed to utilize SIP trunking can significantly reduce Hospitality properties' telecom costs. Property managers only pay for the number of call paths needed instead of the number of paths installed.
At the same time, premise systems can take longer to install and may require additional maintenance and support costs. In the event your property grows and you need to expand your system, your network can become increasingly complex, too. Beyond that, when premise systems need to be upgraded, your IT team will have to take care of those changes themselves—unless you decide to outsource those responsibilities to a team of contractors. However, because you are managing the system and it lives on your property, you will have more control over the equipment.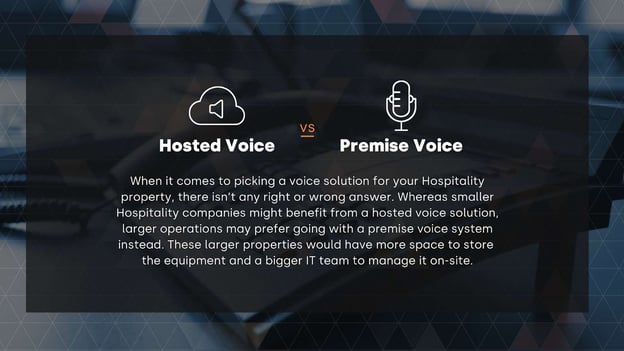 Hosted Voice vs. Premise Voice: Which Is Right for Your Property?
When it comes to picking a voice solution for your Hospitality property, there isn't any right or wrong answer. Whereas smaller Hospitality companies might benefit from a hosted voice solution, larger operations may prefer going with a premise voice system instead. These larger properties would have more space to store the equipment and a bigger IT team to manage it on-site.
You know your property better than anyone else. As you begin your search for a voice solution that makes the most sense for your situation, do your due diligence on what your property needs out of a voice solution regarding size, support, and time to install. Then you can search for a voice provider that meets these needs.