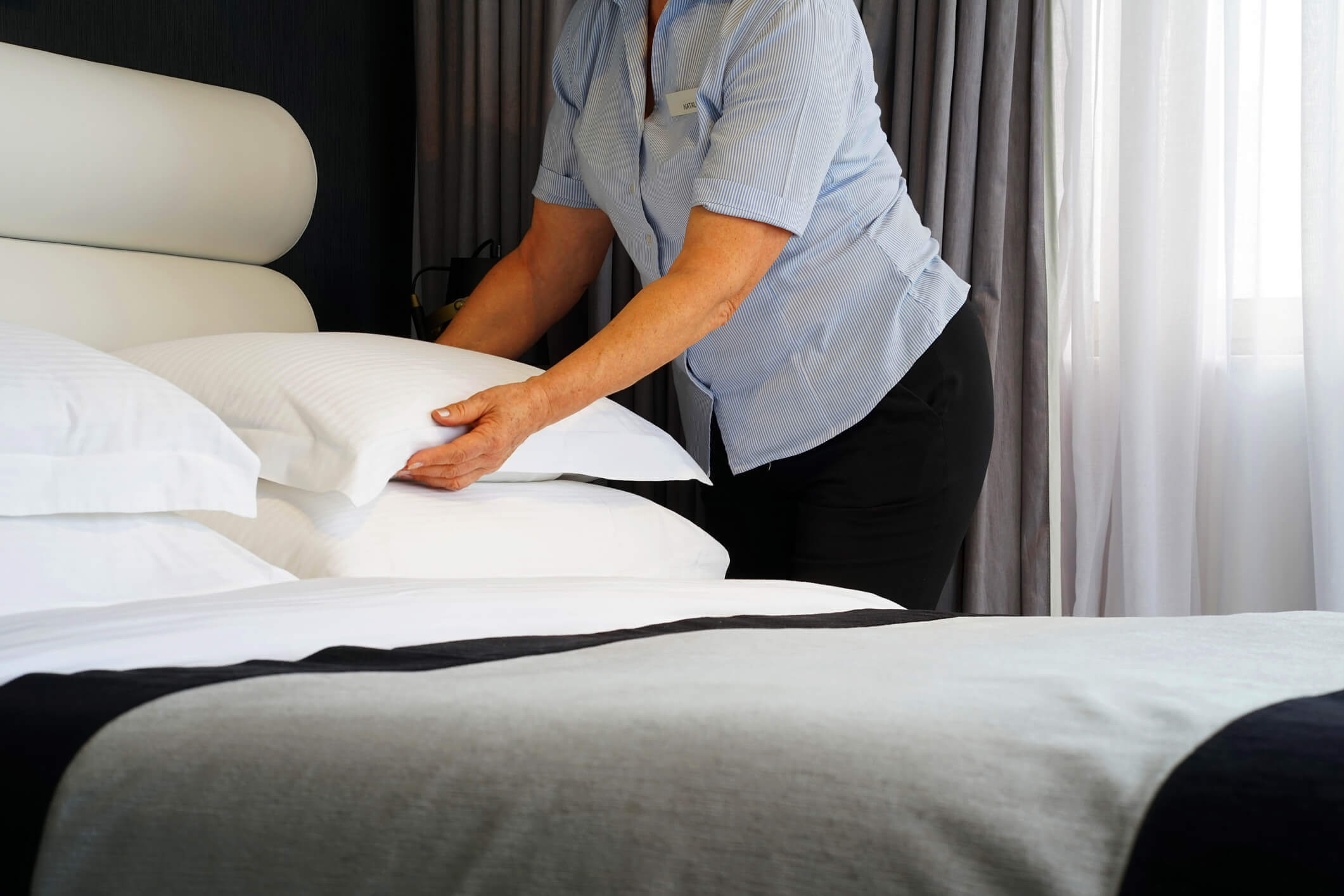 Guest needs are not the only priority for property managers and owners; maintaining a safe environment for staff is another critical challenge to address. Industry-wide mandates ensure that hospitality properties of all sizes remain focused on developing a safe environment for all staff. Staff safety in Hospitality is an issue: A recent study found that 89 percent of workers in the hospitality industry have been sexually harassed while on the job. What's more, 84.7 percent of workers have witnessed their colleagues get harassed.
The good news is that technology solutions exclusively made for Hospitality staff are emerging for property managers. In addition to voice solutions, cloud-based accounting platforms, and networking monitoring tools, a number of devices enabled for the Internet of Things (IoT) have recently come to market. Some of these IoT devices are designed specifically to enhance staff safety. To create a more inviting and trusting atmosphere for both staff and guests, leading Hospitality brands are looking to invest in these solutions.
What Is IoT?
The Internet of Things refers to any number of everyday devices (i.e., not laptops and smartphones) that are connected to the Internet. Some examples of IoT devices include smart locks, connected refrigerators, and wearables. Because of the benefits IoT delivers—including improved communication, remote monitoring capabilities, and increased productivity—it comes as no surprise that this market is expected to grow to $520 billion by 2021, more than twice as much as the $235 billion realized in 2017.
IoT devices are used for a variety of industries and applications. In an industry-wide effort to improve staff safety at Hospitality properties around the country, the American Hotel & Lodging Association (AHLA) recently announced—in conjunction with major hotel brands such as Hilton, Wyndham, Hyatt, Marriott, and IHG—the 5-Star Promise, which aims to leverage portable IoT devices to improve staff safety by giving all workers access to a "panic button" they can press whenever they feel threatened or unsafe.
What Is the 5-Star Promise?
The 5-Star Promise is an initiative designed to make sure that all hotel workers have access to employee safety devices (ESDs) by 2020, and that Hospitality properties are committed to investing in the training and resources necessary to ensure their employees are safe at work. Hospitality properties in New York, Chicago, Seattle, and Washington, D.C. have already equipped their employees with ESDs; in June 2019, New Jersey became the first state to pass legislation mandating that hotels with more than 100 rooms provide ESDs for staff.
"We're proud of the hotel industry's efforts and are encouraged to see our industry come together in an unprecedented way to make our employees feel safer at work," said Katherine Lugar, president and CEO of AHLA, in a press release. "Safety is a never-ending challenge, and the hotel industry is highly committed to being part of the solution. Protecting our employees—as well as the millions of guests who stay in American hotel rooms each day—is critically important to our industry."
Some of the highlights of the 5-Star Promise:
AHLA will provide safety and security training and support resources to the industry
Hospitality properties must have anti-sexual harassment policies in place, published in multiple languages
They must also provide ongoing training and education to help employees identify and report sexual harassment
U.S. hotels must provide ESDs to their staffers
AHLA will broaden partnerships with organizations such as the National Alliance to End Sexual Violence (NAESV) and End Child Prostitution and Trafficking (ECPAT–USA)
How ESDs Can Improve Staff Safety at Hospitality Properties
By providing employees with IoT devices that will alert management of a problem with a simple button press, Hospitality properties can enhance staff safety—which, in turn, boosts employee morale and therefore strengthens the guest experience.
For example, the TraknProtect solution recently added to Allbridge's product portfolio gives hotel staff a button that provides real-time alerts via SMS, push notifications, desktop alerts, or email for housekeepers, maintenance workers, and room attendants. These devices communicate via cloud-enabled Ruckus H510 access points installed throughout a Hospitality property, alerting managers to on-property safety calls as well as false alarms.
"This comprehensive staff safety solution gives hotel employees the protection and peace of mind they need while giving hotel owners a uniquely cost-effective way of implementing it. Allbridge's commitment to help its customers fulfill the 5-Star Promise develops a culture of safety and trust." said Matt Koch, Allbridge's Chief Product Officer.
Thanks to IoT, it's easier than ever for Hospitality managers at both branded and independent properties to support staff safety initiatives. At Allbridge, we are committed to helping our Hospitality customers ensure their employees have a safe work environment—which, in turn, will help them continue delivering exemplary guest experiences.