Voice technology plays a critically important role in shaping the hospitality experience. Your guests expect to feel right at home during their stays, and in the age of mobile devices and lightning-fast networks, properties need to provide modern solutions that mimic each guest's at-home experience.To this end, we're excited to announce that Allbridge and Mitel have partnered to transform the guest experience by delivering best-in-class on-premise voice solutions to leading Hospitality properties like yours.
Mitel is particular about the companies it chooses to represent its brand and resell its products. As an authorized Mitel partner, Allbridge meets strict qualifications and has demonstrated the ability to install and maintain all Mitel solutions efficiently and effectively.
Are you thinking about moving to a new voice solution at your Hospitality property? If so, here are four benefits you'll get from choosing Allbridge as your full-service voice provider.




1. Increased staff productivity
Premium voice and mobile solutions enable your staff to remain connected with each other, wherever they are on your property.
Imagine your housekeeping manager is on the other side of the building when an urgent matter requires their attention. Instead of trying to track this individual down, property managers can send them a text or make a quick call thanks to Mitel's solutions. Not only will the housekeeper respond to the pressing matter sooner, but other staffers won't have to waste time searching for a colleague.
Mitel's voice solutions offer a wide range of functionality, including voice, messaging, presence, mobility, conferencing, collaboration, and more. Beyond that, features such as intelligent call routing ensure that calls are immediately transferred to the appropriate agent, enabling your team to answer more calls more effectively in less time.
Thanks to Mitel's technology, productivity increases across your entire staff, which translates into an enhanced guest experience.
2. Streamlined operations
Mitel's innovative solutions are designed to simplify your operations, enabling you to deliver a high standard of customer service. Deploy them across any kind of environment—even across multiple locations—and integrate them with your tools.
What's more, Mitel's easy-to-use interfaces and devices ensure that users can get up to speed right away while simplifying the support services your property might need. For example, managers can easily assess the status of guest rooms with an integrated front desk web app.
In the event you do need some help, our team of technicians is standing by to walk you through a solution on the phone or visit your property as needed.
3. Future-proof voice solutions
Mitel's solutions are built to adapt to guest, resident, and staff needs while requiring little overhead. As a result, you are able to future-proof your property's voice needs with a network and underlying infrastructure that can be easily updated to leverage new tools, ensuring your property stays on the cutting edge of technology.
For example, Mitel's contact center solutions enable your Hospitality property to transform the customer journey by maintaining robust customer histories across channels. These histories help deliver a more personalized experience during each interaction.
4. Stronger guest experiences
Speaking of personalized experiences, they're incredibly important in the Hospitality industry. Guests are increasingly demanding personalized experiences, and Mitel's voice solutions can help.
By giving your guests access to familiar voice technologies, you increase their comfort level, which can encourage them to spend more at your property. You can take this idea further by enabling guests to connect their own mobile devices to your network and use their phones all across your property (i.e., BYOD).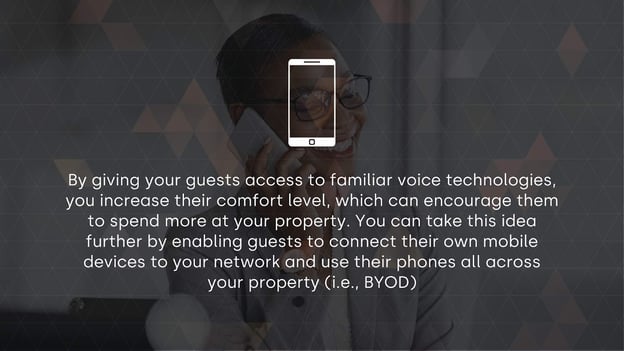 In addition, you can use real-time messaging and company-branded communications channels to relay relevant information to your guests, such as information about property amenities, the local weather, and local events. This communication increases engagement and makes your guests' lives a little bit easier—which is often the goal of property managers.
Add it all up, and Allbridge and Mitel's partnership improves the guest experience significantly.
Voice technology has been around forever. But over the last several years, the technology has evolved significantly. If your property is still relying on voice infrastructure you installed in the last decade—or, worse yet, voice technology that has "always been there"—it's time to consider moving to a modern, feature-rich solution that makes your staff more productive and meets (and often exceeds) guest expectations.
Learn more here.