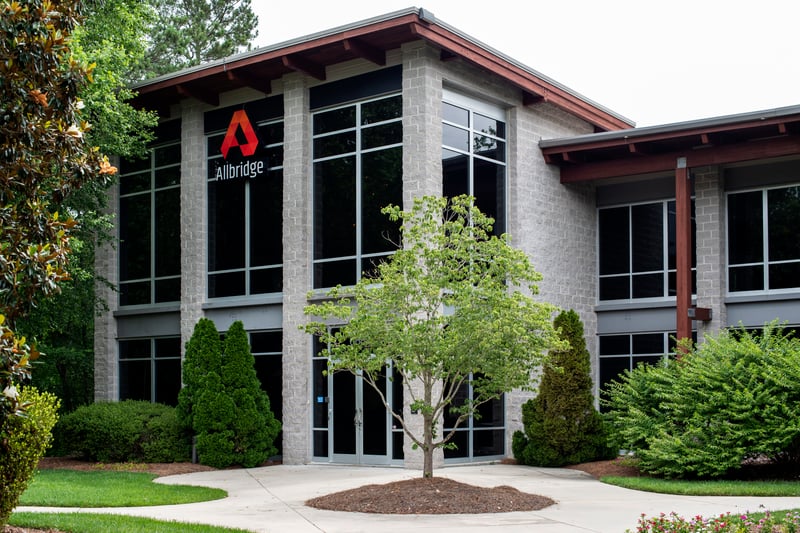 November 28, 2019 marked the one year anniversary of the announcement of Allbridge. Three industry leaders — Bulk TV & Internet, DCI Design Communications, and EthoStream — came together to form one unified company that now serves more than 1,000,000 rooms nationally.
We spoke with the Allbridge CEO, Dave O'Connell, to gain an insight on what led to the creation of the company and what the past year has been like.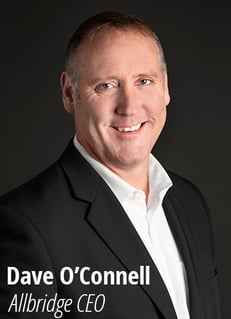 What were you doing before Allbridge?
I co-founded Bulk TV & Internet with Tom Conley in 2004, and acted as the CEO for 14 years. We started the company in a garage, and over the years were able to grow exponentially to amass a national portfolio of more than 500,000 guest rooms for DIRECTV free-to-guest video solutions for commercial properties, namely Hospitality, Healthcare, and Higher Education.
What led to the creation of Allbridge?
In 2018, we made the move to merge with the leading provider of high-speed Internet access (HSIA) and voice solutions, DCI Design Communications, based out of New York and had recently acquired Ethostream, a leading provider of data network solutions. The foundation for the merger was to streamline converged network solutions for our customers, given the complex nature of each of the product offerings that ride on the same infrastructure. Together, we were able to form one company that can provide all three solutions – data, video, and voice. By relying on a single partner for all of these network needs, properties benefit from cost reduction, increased performance, greater flexibility and scalability, and simplified management.
Where did the name Allbridge come from?
Allbridge is a name designed to convey the connections we make between people, technology, and our customers' properties and brands. We bridge the gap between the end-consumer and property brand, bringing them the technology experience they expect and desire in a simple, cohesive package for the properties we serve. The Allbridge logo symbolizes the many services offered from one company, all streamlined to fit together into "one connected experience". The design is built on a triangular framework to honor the three companies (Bulk TV, DCI, and EthoStream) that merged to become Allbridge.
This year, Allbridge won the Triangle Business Journal's Fast 50 Award, Business North Carolina's Fast 40 Award, and the TBJ Best Places to Work in the Triangle Award. What is fueling your growth?
Allbridge is the direct result of three industry-leading providers in data, video, and voice solutions listening to the dynamic needs of our industries, and coming together to offer comprehensive, converged network solutions. The driving factor behind our growth is our ability to adapt by evolving our product portfolio and service offerings to accommodate the ever-changing needs and desires of our customers. For example, Video solutions for hotels are dramatically different than they were just a few years ago. IPTV, including over-the-top streaming content and casting applications, are becoming more prevalent in hotels. Colleges and universities are moving more towards providing streaming and smart DVR options for students. Senior living communities can now more easily provide HD programming to residents, and Wi-Fi connectivity is also becoming a much more required amenity in the Senior Living industry. Technology continues to be an increasingly vital part of people's lives, and as advancements are made we have to not only keep up, but stay ahead of the curve.
So, what's the next hot thing then?
Allbridge Entertainment, which is an interactive TV solution with features for guests to enhance their stay, including over-the-top streaming services, property information, and e-Concierge services. It's fully customizable and will allow guests to use the TV at a property the same way they do at home – plus, the property can use it to promote onsite services and generate additional revenue.

Additionally, Skyway is our HSIA service portal we developed to give our customers control over their network functionality. With analytics, splash page builder, and a conference management tool, admin users have everything needed to get the most out of their property's data network.
The Internet of Things is becoming increasingly prevalent as well. Do you offer any IoT solutions?
In response to recent regulation mandating staff safety at Hospitality properties, we're providing safety devices that ride on the property's network. We are also currently adding other complementary IoT devices to further support our mission of delivering one connected experience for the end-user.
What are your goals going into next year?
Our primary goal for 2020 is to continue improving each aspect of the customer experience – beginning with their initial interaction with our sales department, to project management and system design, and on to implementation and post-installation support. Our mission is to bring robust and innovative solutions to the market in addition to the financial benefits and simplified management that comes with consolidating in-room technologies under one provider.
---
Allbridge represents the three sides of in-room technology — data, video, and voice — coming together in one unified solution. For end users, this means a consistent experience as they move from property to property and from one device to another. For brands and property managers, it means the confidence of one partner, one unified service, and one number to call for every technology solution in their customers' rooms – from design and procurement to installation and ongoing maintenance.
Watch the video below to learn about The Story Behind the Merger:
---