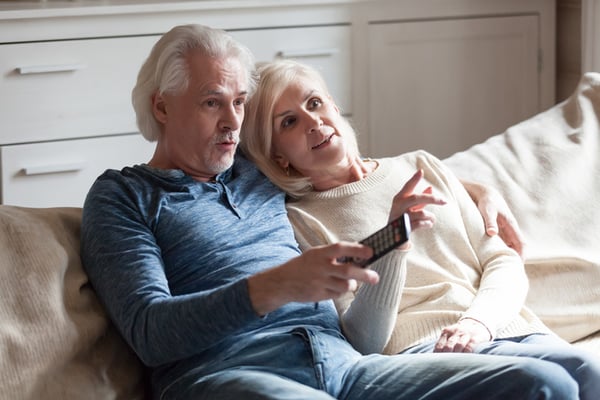 The television system you select for your senior living community plays a tremendous role in your residents' quality of life. Although you might have tons of events and activities to keep people occupied, they may just want to relax and watch television.
With the growing popularity of alternative options to cable, many modern TV systems are incredibly complicated. It's not uncommon to have several remotes at home, for example: one for the television, one for the cable box, another for a sound system, and yet another for an OTT device or Blu-ray player.
Simply offering basic cable will not meet your residents' expectations anymore. To help your residents get as much joy and satisfaction as possible from their living situation, you need a senior living television solution that is easy to use and reliable—and offers lots of programming options.
What to Look for in a Senior Living TV System
As you begin your search for a senior living television solution that's perfect for your property, you'll quickly see that you have a lot of options at your disposal.
Choosing the right one starts with identifying what you need in a system—as well as what would be nice to have. With that in mind, here are some things to look for as you narrow down your search.
Easy-to-use system: Senior living television systems should be incredibly easy to use. Remotes should be simple and intuitive, and systems should include a program guide so that residents can easily find the shows they're looking for.

Fewer components and hardware: Systems that are easier to use tend to have fewer components. If you want your residents to get the most out of your television solution, look for a system that doesn't require a set-top box.

Fits within your budget: In recent years, traditional cable providers continually increased pricing for assisted living and senior living properties. Now, there are more affordable options, especially if you are looking to bundle additional services.

Provides multiple entertainment options: Each of your residents have different interests. Look for a senior living TV solution that can offer a variety of programming options and allow for the flexibility of a customized, tailored channel lineup.

Allows for customization: Leading television solutions can be customized to the unique specifications of your property. Look for solutions that enable you to display community branding on your welcome screen, support in-room messaging, and relay information about community amenities.

Provider with experience implementing in senior living communities: Every senior living property is different. Experienced providers will be willing to design your system based on your unique distribution requirements. Choose the right partner, and you'll worry less about the installation process—an SBCA-licensed technician will take care of everything.

Top-notch customer support: When a problem occurs with your system, leading vendors offer 24/7 tech support, 365 days a year. The right provider will ensure any problem with your senior living television solution is addressed quickly in the event there's an outage.
The perfect senior living television system has the ability to transform your property by lowering your monthly costs while improving the resident experience. Senior living and assisted living communities will need to meet the growing demand for quality programming and streaming options. A qualified provider can help your community transition from static cable options to an interactive experience for your residents.