In the past, your network provider would have to move from room to room to install, update, and troubleshoot hardware and network systems. Thanks to modern technology, however, property managers are increasingly moving to Wi-Fi networks with cloud management functionality that makes network management more efficient. Thanks to remote access and real-time dashboards accessible via the cloud, providers can more easily manage these networks—without having to be on-site at your property.
Cloud management within your Wi-Fi network offers a number of benefits, including the four detailed below.



1. Simplified deployment
The cloud makes it easy to deploy new applications to your network and ensure that software and operating systems are always up to date. Your provider can handle all of these responsibilities from one central interface; they don't even have to be physically on the property to update the network.
Cloud Management is an important aspect of managing your wi-fi networks. Managers of Hospitality, Healthcare, and Higher Education properties are increasingly investing in high-speed network solutions that provide the connectivity and convenience today's consumers demand.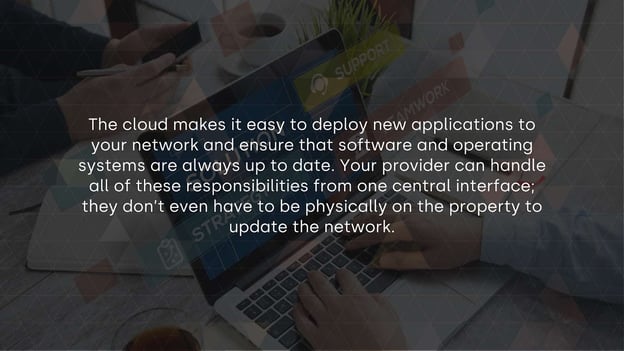 In many cases, systems can be configured to install updates automatically, expediting the process even more.
As a result, your guests always have access to current technology and applications, and your internal team will have more time on its hands to focus on other pressing responsibilities.
2. Bandwidth management
Without the right tools in place, your network capabilities could significantly slow down during periods when lots of users crowd the network. Thanks to cloud management, your bandwidth allocation can easily be monitored and adjusted by your provider, ensuring that bandwidth is available and not maximized.
In the event a property needs more bandwidth, available bandwidth can be provisioned quickly, thanks to the cloud. And if your needs change, available bandwidth can be decommissioned, ensuring you only pay for what you need.
3. Custom, branded splash pages
A benefit of deploying your Wi-Fi network is the ability to inform your guests or residents of relevant information about your property. You'll be able to create custom, branded splash pages that your guests can see every time they connect to the Internet.
These pages can include property branding to help reinforce brand awareness. They can also be filled with all kinds of useful information, such as local weather data, information about property amenities, and details about events that are taking place at your property or in the area.
Thanks to the cloud, these pages can be updated and managed remotely by your provider—and quickly, too.
4. Faster troubleshooting
If you run into any issues with your hospitality or healthcare network, cloud management can help you get your network back up quickly. Providers can use tools to monitor network performance on a remote basis. In many instances, they may be able to detect issues and correct them before they grow into problems that their guests notice.
The cloud makes it easy to troubleshoot common issues across a network. Your provider can assess the status of your network and software configurations from any authorized connected device. As a result, your property is able to resolve network issues much faster and with greater visibility.
It's important to understand your property's particular data requirements so that you can invest in a network solution that meets your needs today and is scalable for the future. Consider working with a trusted provider that can navigate all possible options and recommend the best solution based on your unique situation.
Learn more about Allbridge's solutions for cloud management here.