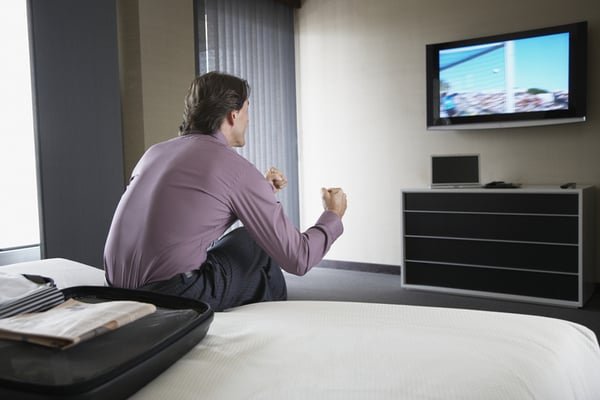 The hospitality industry becomes more competitive every day. In order to win in this challenging climate, hotel general managers—whether they are part of independent properties or brand-name hotels—are responsible for continuously enhancing the guest experience.
One way to differentiate your hotel from the competition is by investing in an up-to-date hospitality TV system. Not only can the right system strengthen customer satisfaction and develop guest loyalty, it can also reduce operating expenses, which increases the hotel's profitability.
Before implementing any system, you should familiarize yourself with some of the common technical terms when searching for a hospitality TV system. Once you've mastered the lingo, it'll be easier to navigate the buying process and find the perfect system for your property.
With that in mind, we review five must-know terms you'll come across when you shop for hospitality TV systems.
1. Over-the-Top (OTT)
By now, you're probably familiar with streaming services such as Netflix, Amazon Prime Video, and Hulu. What you might not know is that these services are all OTT platforms.
Simply put, OTT content is delivered via the internet. Guests can watch shows and movies through OTT apps, and the hotel property does not have to subscribe to a traditional television package.
More than 51 million U.S. households engage with OTT content, and they expect to do the same when traveling. For hotels, installing OTT is often a simple integration and requires limited hardware.
2. Free-to-Guest (FTG)
It's seemingly impossible trying to sell a room that doesn't offer any complimentary television services. Though most modern hotel TV systems give guests the ability to pay for movies and other premium content, the majority of the channels are free to the guest, and the property shoulders the cost.
The price of FTG content has been steadily increasing over the last several years. To this end, it is critical to look for attractively priced FTG offerings when shopping for a video solution. A solid offering is a turnkey solution that has the ability to scale with the growth of your property.
3. Internet Protocol Television (IPTV)
Like the name suggests, IPTV delivers television content over the internet. In most instances, this content is available on demand; guests can simply browse a guide, select the show they want to see, and voilà, it appears on screen.
Your hotel can expand its high-quality programming options through IPTV and create customizable user experience options. Guests are able to interact with smart TV apps to watch content that they're interested in. You can even use IPTV to show important guest information, including events or dining recommendations.
4. Cabling Distribution System
Regardless of the size of your hotel, you'll need an efficient cabling distribution system to make sure each room has connectivity—and make it easier to identify where any potential issues are if the system stops working properly.
If you're looking to migrate to a new television system, look for providers that can leverage your existing cabling infrastructure during implementation. This should reduce costs and time of implementation.
5. Quadrature Amplitude Modulation (QAM) Overlay System
QAM is a standard that enables digital cable channels to be transmitted to a television. A QAM overlay system enables these channels to be projected on screen without a set-top box.
In other words, QAM overlay systems enable televisions to receive unscrambled digital programming that has been approved by cable providers. Channels sent over this standard include public access television and local broadcast stations, among other programming.
Now that you're familiar with these five common terms, you're that much closer to choosing the hospitality TV system that works best for your property. It's important to look for a provider with experience installing systems in hotels like yours who can recommend the best technology based on your budget and needs.