As the manager of a property in the Hospitality or Healthcare industry, you're focused on delivering great experiences to every person who passes through your doors. One of the best ways you can do that is by investing in up-to-date data, video, and voice solutions that give guests access to things they've grown accustomed to in recent years—such as Wi-Fi and over-the-top content.
But your work doesn't stop there; investing in solutions is only half the battle.
You also need to ensure the technology you implement is reliable, scalable, and high-performing
Something that can be easier said than done in an age when property managers say that they are dealing with guests who require more bandwidth. In our digital age, the technologies implemented on-site play an increasingly important role in the guest and resident experience. One study, for example, found that 65 percent of guests access the hotel's Wi-Fi. At the same time, seniors are becoming increasingly tech-savvy. Over the last two years, smartphone adoption among seniors increased from 70 to 77 percent.
First impressions matter—and that might end up making all the difference. If your hotel network isn't working when guests arrive, their stays could be less than memorable or be remembered negatively, and deter them from returning. Similarly, if your phone solution isn't reliable at your senior living property, your residents' satisfaction—and even safety—could be at risk.
Whichever scenario you find yourself in, working with a managed services provider can prove to be a valuable asset, ensuring your property is equipped to meet your clients' technology needs.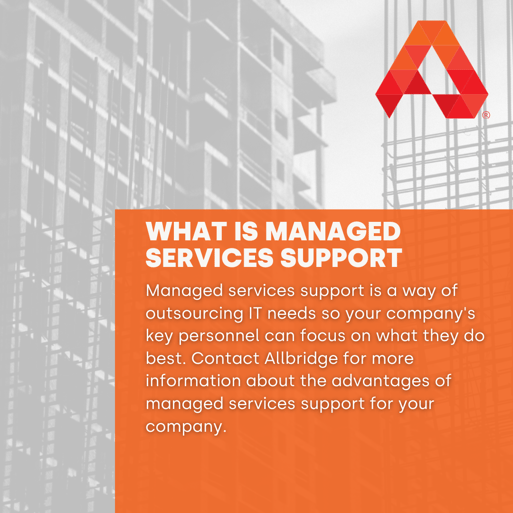 Defining Managed Services
Simply put, managed services are services that are outsourced to a third party. Instead of handling their own technology setup and management in-house, more Hospitality and Senior Living decision makers partner with a managed services provider that handles important IT tasks related to the data, video, or voice solution. Companies opt to work with managed services providers to lower expenses while improving operations, and simplifying their workload by partnering with a trusted provider.
A hotel is in the business of delivering great experiences to guests—not handling IT requests. Senior living communities are also focused on building safe and pleasant communities and maintaining their data network, video, or voice solutions can be a drain on staff resources. By outsourcing tech responsibilities to a managed services provider, both Healthcare and Hospitality properties spend less time troubleshooting and managing IT initiatives and can instead focus on their missions: exceeding the expectations of each and every guest and resident.
Due to these benefits, businesses in all sectors are increasingly outsourcing their IT functions to managed service providers to streamline operations. In fact, the global managed services market is expected to grow $296.4 billion by 2023, up from the $155.9 billion it brought in during 2017.
Benefits of Using a Managed Services Provider
Now that you have a better idea of what managed services are, let's take a closer look at some of the benefits you'll enjoy by opting to work with one of them.
If you're like most property managers, you look to hire people you think will do great in customer-facing roles. You're not necessarily thinking about staffing someone who will troubleshoot tech problems all day. But if you're managing your network in-house, that's often what ends up happening. With the right partner, your residents and guests will be supported with live technical support 24x7x365, and your staff will have more time to handle other business priorities.
When you partner with a managed service provider, your team can stop focusing on your IT management, from connectivity issues to user security—that will be the responsibility of the team of professionals you're paying to manage and support your technology. Your team can focus on other property-specific priorities, such as increasing revenue opportunities or responding to guest or resident needs.
You won't need to find the capital budget or financing for equipment upfront
Funds are constantly being pulled in many directions, and capital expenditures often require being pushed out and planned for the next budget cycle. When you choose a managed services provider, all of the equipment and installation costs are covered in the monthly cost, and you won't be left scouring the budget for money to re-allocate towards your latest project or requesting unbudgeted expenses. No upfront costs for equipment and no searching for financing, all equals a smoother transition to your new provider while giving you an easier path to upgrade your technology.
You gain access to a team of experienced professionals to design, install, and troubleshoot issues
Leading managed service providers do more than simply troubleshoot your IT issues. With MSPs, there's no equipment to purchase—your provider can own and maintain all equipment. Enlist their services up front, and they'll scope your property, design and install your technology solution, and provide post-installation support services. Depending on the partner you choose, you may even be able to leverage some of your existing infrastructure while you migrate to a new solution, reducing costs that much more.
For the best results, look for a provider that offers robust support services and can address issues as they emerge—without even having to set foot on your property.
Your tech solutions will be monitored 24/7, increasing security and giving you peace of mind
With a managed service provider overseeing your data, video, and voice setup, you get the peace of mind that comes with knowing a team of professionals is standing by and ready to help in the event something goes wrong. In fact, leading MSPs will monitor your solutions 24/7, and all repairs and service calls are covered under your monthly service fee. They can even detect problems before or right when they occur—solving them before your guests or residents even notice. You get the peace of mind that comes with knowing your technologies will work as designed, day in and day out.
You'll be able to use the latest technologies thanks to cloud-based updates
Technology keeps improving and developing more complexities. That being the case, some Hospitality and Healthcare property managers might be concerned that investing in a new network, video offering, or phone system today will leave them in the same spot in a few years: having to completely upgrade to a newer technology solution again.
You'll have access to modern solutions that future-proof your infrastructure with updates delivered through the cloud, and can also scale with property growth. As an added bonus, cloud-based services eliminate the need for cumbersome on-site updates that can put a damper on the resident or guest experience.
Ready To Learn More About Managed Services?
As you can see, managed service providers offer numerous benefits to Hospitality and Healthcare organizations like yours. In addition to these advantages, some providers offer managed services with no upfront expense, and one simple monthly rate. To learn more about how your property can benefit from outsourcing your IT operation to a managed service provider, contact us today with your questions.