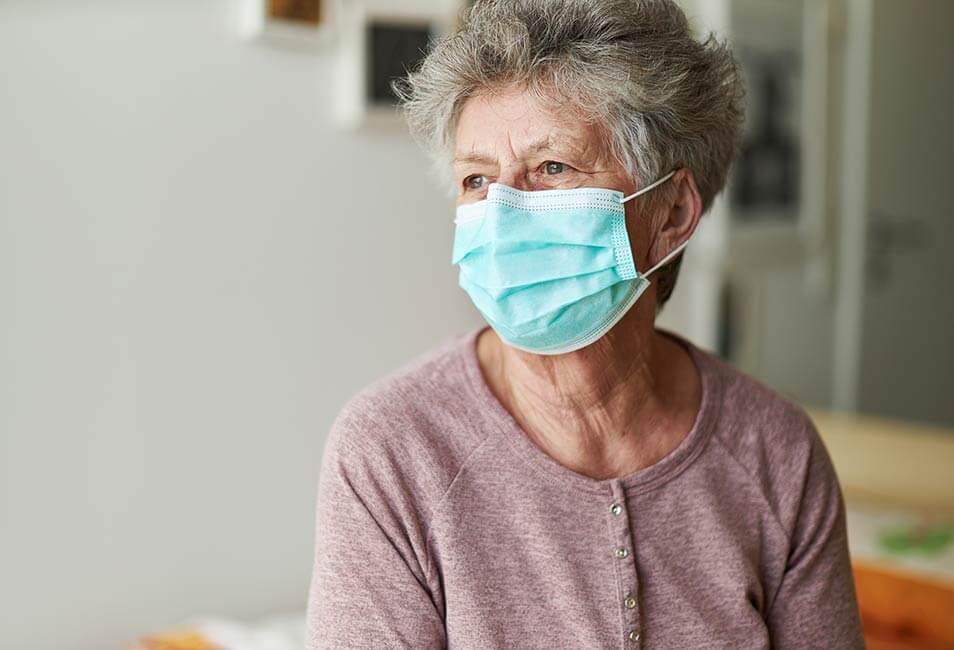 Many U.S. states have started to relax coronavirus restrictions, but older adults are advised to continue sheltering in place, as they are some of the most vulnerable to the virus. While some senior living communities have chosen to allow visitors, the vast majority continue with strict no-visitor rules. While this is the best way to keep residents safe, the loneliness has taken a toll on many.
At Miami Jewish Health (MJH), psychologists, nurses, and social workers are calling residents several times a week, doing brief mental health checks and referring anyone who needs help for follow-up attention. There's "a lot of loneliness," said Dr. Marc Agronin, a geriatric psychiatrist and vice president of behavioral health at MJH. "If this goes on much longer," he said, "I think we'll start to see less engagement, more withdrawal, more isolation — a greater toll of disconnection."
Resident engagement has always been a priority in senior living, but the social isolation that older adults have been experiencing over the past few months has made engagement more important than ever. Many communities have found creative ways to keep their residents feeling positive and involved, like photo ops and pen pal requests. Experts say the best way to help older adults feeling depressed is to provide a sense of companionship. This can be challenging with no-visitor rules, so finding ways to keep residents engaged and help them stay digitally connected to loved ones is critical. The surge of COVID has accelerated the need for technologies that were once only used by a minority of senior living communities. High-speed Wi-Fi, modern communication tools, and AI-enabled technology has very quickly gone from "nice-to-have" to "absolutely necessary".
"Right now, senior living community leaders are appropriately focused on the protection of their residents and staff, trying to meet the ever-changing regulatory requirements, planning for the careful lifting of restrictions on dining, wellness, and activities, all while also working to re-start the move-in process," says Cindy Phillips of K4Connect. "However, while doing this, many will recognize the need for strengthening their Wi-Fi networks, improving communication channels, setting up YouTube for streaming content, and better preparing staff to engage residents using technology."
Many healthcare IT leaders have been looking ahead to increasing numbers of Baby Boomers retiring, preparing to match their expectations for a connected technology experience – but the shift has come sooner than expected. Older residents already living in communities have quickly gotten the hang of technology during the last few months. According to Buckner Retirement Services, fifty-five percent of residents surveyed admitted they never used video chatting technology prior to shelter-in-place orders, but 52% said they plan to continue using the technology beyond the pandemic. They are staying connected to family and friends in a variety of ways, including through phone calls (99%), texting (57%), email (46%), video calls (43%), and social media (21%). Additionally, a wave of aging Baby Boomers means more staff than ever will be needed to help care for older adults, yet senior care already faces big hiring and retention challenges. That's why technology-enabled communities are critical — not only to help bring in younger, tech-savvy workers, but to facilitate tools that can help drive efficiencies with fewer employees, especially in the wake of COVID-19.
The current climate has made it more important than ever that senior living communities deliver modern digital experiences throughout the property. In the age of mobile devices and ongoing connectivity, you need a Wi-Fi network that delivers a seamless experience to residents and scale to accommodate the growing needs of all of your residents—not to mention their guests and your staff's operational system needs.
Providing tools to residents to help keep them connected to loved ones and engaged in their community is one of the most important things operators can do to set their communities apart in the coming months. By using digital engagement platforms like K4Community from K4Connect, residents can easily transition into the digital world with simple, user-friendly applications that allow them to stay up-to-date on community events and news, while also providing them built-in, easy-to-use communication tools to stay connected to staff, other residents, and loved ones outside of the community.
Such platforms also include a variety of other tools that can be immensely helpful to staff workloads, such as Smart Home capabilities, Wellness tools to track steps and sleep hours, and streamlined, intuitive features that allow your staff to work more efficiently, giving them more time back in their day to spend caring for residents.
While residents will have to continue sheltering in place for the foreseeable future, the right technologies can deliver one connected experience to transform your community and make their residents' lives simpler, healthier, and happier.