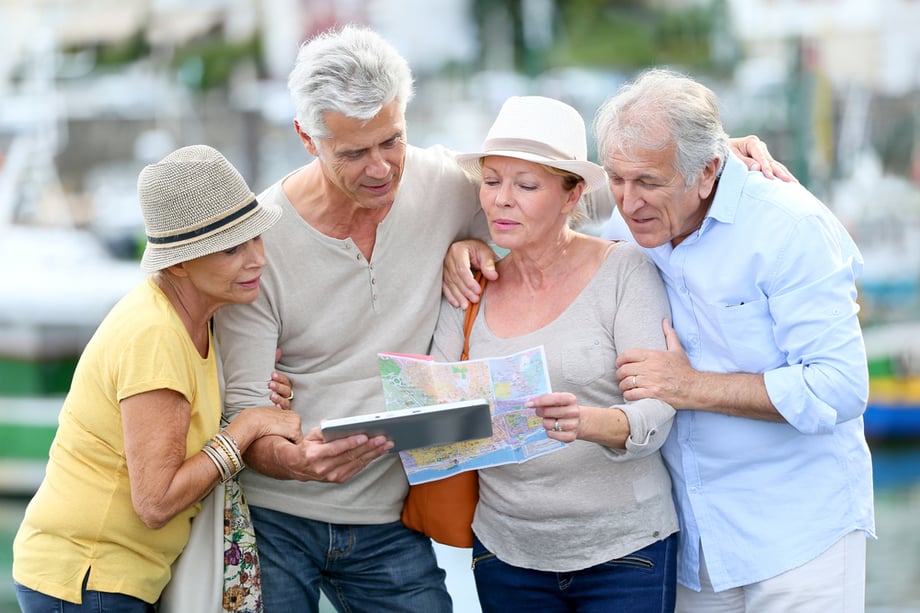 Truly taking your senior living community to the next level starts with offering a modern digital experience—one that replicates or even exceeds what is available in many of our homes. To deliver on that promise, you need to consider the three critical technologies that make it all possible: a robust data network, quality video services, and a dependable voice system.
1. Data Network
It's one thing to simply offer Wi-Fi. It's quite another to offer high-speed Wi-Fi that works for your residents. It can be incredibly frustrating to connect to a Wi-Fi network only to find out that it takes what seems like forever for a website to load. In an age of 4G networks and high-speed connections, it is critical for senior living communities to offer Wi-Fi that can support an abundance of traffic. Remember, device usage among seniors is on the rise.
According to Pew Research, four in 10 seniors now own smartphones—more than double the amount that did in 2013. As we move further into the future, this statistic will only rise, putting an increasing amount of strain on senior living community networks.
As seniors use mobile devices to search the web for information, FaceTime with family members to keep relationships intact, and watch streaming content on platforms such as Netflix, a strong Wi-Fi network is needed more than ever. Failure to deliver on these demands may result in slow connection speeds—which will undoubtedly frustrate many of your residents and their guests.
As technology continues to advance, properties need a solid foundational network that enables them to future-proof their network needs and scale to support an increasing volume of traffic. With the right data solution in place, properties can benefit from both wired and wireless connectivity that's highly secure, highly scalable, and incredibly easy to administer because of remote monitoring capabilities. Beyond that, today's leading systems are delivered through the cloud and therefore don't require an extensive amount of hardware. With the right solution in place, you'll have access to a branded self-service portal, and you can even offer private resident networks to clients who might prefer that option over sharing a data network with everyone else in the community.
Having a strong underlying data layer in place lets you set the stage for the two other important services you need to offer your residents: video and voice.
2. Video
For years, virtually all properties would simply sign up for a standardized cable package, deliver that to their residents, and assume their work was done. In the event a resident wanted to add on extra channels or customize the offering in any way, they were out of luck. The property's hands were tied, too, in many cases. If they wanted to add a customized community channel that shared property-specific news, they likely wouldn't be able to.
Over the last few years, however, innovation has occurred in the delivery of high-definition video content. With the right video solution in place, senior living properties can offer their residents high-end television services, customizable to accommodate their unique preferences.
For example, years ago, delivering television required installing massive amounts of hardware in each resident's room. Not only did cable boxes and wiring clutter up their living spaces, but this configuration was also suboptimal for property maintenance staff. In the event an outage occurred, a technician would have to go to a resident's room to fix the problem—spending a great deal of time traveling from their office to a room and back again.
With a modern video solution in place, however, you can deliver high-definition television programming without requiring set-top boxes in each resident's room. Residents will feel right at home watching quality television programming without having to stare at unappealing hardware all day long.
As an added bonus, the updated equipment saves your maintenance staff valuable time. With remote monitoring capabilities, our technical support team is able to address issues without requiring community staff to assist with troubleshooting. By partnering with the right vendor, you'll also gain access to 24x7x365 technical support so in the event anything isn't working properly, help is always just a phone call away.
Leading video solutions also enable residents to customize their channel selection and add on additional channels as they see fit. Properties benefit from customization, too, because they can pick which channels to offer their residents and also include a custom community channel to provide a channel for community announcements and other pertinent information, whether created by the community or a third party solution.
3. Voice
Voice plays a critical role in the success of any senior living property. In addition to residents' in-room phone services, your community needs a dependable system for property management and organizational needs.
In-room tech solutions that are hosted in the cloud are becoming more common as property administrators look to leverage the community's high-speed data network and eliminate outdated hardware. Hosted voice solutions provide the reliability of an on-premise system without the need to own and maintain traditional hardware. Your property's system is hosted in the cloud, where your technology partner can support and maintain the system, eliminating the need for upgrades.
Cloud-based systems keep your residents from paying local and long-distance charges and deliver additional features they need, such as an auto-attendant that can answer and transfer calls and the ability to keep their existing phone numbers. There are additional administrative benefits for using a hosted voice solution, including customized messaging for reminders and community updates, built-in failover in case of a network outage, and E911 capabilities for one dispatch location.
Implementing new technologies can be an overwhelming project. When you partner with the right provider, you get the peace of mind that comes with knowing you have a team of experts who can guide you through the process and install your network quickly and efficiently—with minimal downtime for staff and residents.