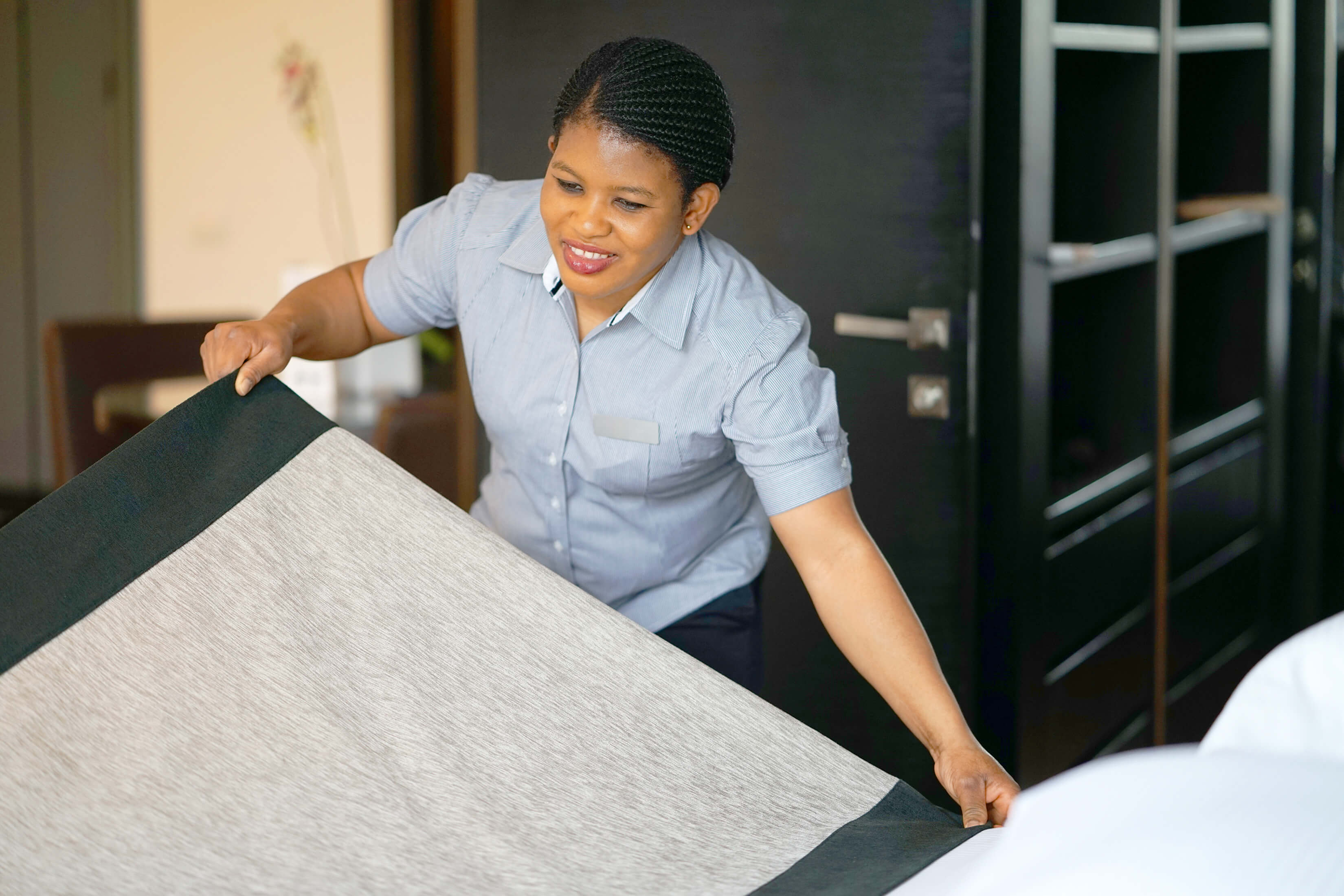 Hospitality general managers work to create an environment that is safe for both guests and employees. Unfortunately, sexual harassment of employees has been a significant problem in hotel properties.
According to an analysis by the Center for American Progress, more than 25 percent of sexual harassment charges filed from 2005 to 2015 were from workers in service-focused industries. Of more than 41,000 charges reviewed, 14.2 percent of charges were filed from accommodation or food service workers.
The 5-Star Promise
Protecting Hospitality workers from this harassment is becoming a top priority for one of the industry's biggest think tanks. In 2018, the American Hotel & Lodging Association (AHLA) announced its 5-Star Promise, an initiative created to ensure that hotel staffers across the country are equipped with employee safety devices (ESDs) that enable them to immediately notify colleagues whenever they are in uncomfortable situations.
Beyond that, the 5-Star Promise also aims to ensure hotels develop policies, resources, and training sessions that focus on improving hotel safety, preventing harassment, and responding to harassment quickly when it does occur.
Already, CEOs of major hotel brands—including Hilton, Hyatt, IHG, Marriott, and Wyndham—have committed to upholding the initiative. Hotels in New York City, Chicago, Seattle, and Washington, D.C. are already giving ESDs to their employees, and several new markets are also signing on to the cause. The AHLA hopes that by 2020, the 5-Star Promise will be implemented in hotels across the country.
"We're proud of the hotel industry's efforts and are encouraged to see our industry come together in an unprecedented way to make our employees feel safer at work," Katherine Lugar, president and CEO of AHLA, said in a press release. "Safety is a never-ending challenge, and the hotel industry is highly committed to being part of the solution."
In addition to the announcement of the 5-Star Promise, there has already been major progress in cities looking to pass legislation that protects hotel staff. For example, New Jersey recently became the first state to require that hotels with more than 100 rooms equip their employees with ESDs. Illinois legislators are also working to pass a bill that will require hotel and casino owners to provide employees with a safety or notification device.
Allbridge and TraknProtect Join Forces to Deliver on the 5-Star Promise
To help the AHLA deliver on its promise—and help Hospitality properties protect their employees and create and sustain safe work environments—Allbridge, the leading provider of data, video, and voice solutions for Hospitality, recently announced the addition of the TraknProtect ESD to its product portfolio.
Now, Hospitality properties using the Ruckus Networks Internet of Things suite can integrate TraknProtect into their networks, increasing staff safety without having to invest in new network infrastructure.
In a statement, Matt Koch, Allbridge's Chief Product Officer, said, "This comprehensive staff safety solution gives hotel employees the protection and peace of mind they need while giving hotel owners a uniquely cost-effective way of implementing it."
The TraknProtect suite delivers several benefits to Hospitality properties, including:
Improved employee safety. Hospitality staff can press the TraknProtect safety button to notify their colleagues when they need assistance during an emergency in one simple click. The device lets team members know exactly where the distressed employee is and keep track of their location in real time in the event the employee is on the move. TraknProtect also keeps records of every incident, giving managers thorough information about each call should they need to access it for any reason.
Vendor tracking. With TraknProtect, Hospitality managers can also keep tabs on the movement of vendors and contractors as they work on a property. Heatmaps provide historical movement and analytics data, making it easy to identify if someone is somewhere they likely shouldn't be. This feature also enables managers to restrict vendor access to further enhance employee safety.
Inventory tracking. TraknProtect helps improve employee productivity by enabling workers to easily gauge where any specific piece of inventory is at any time. With the solution in place, staff can keep tabs on things like refrigerators, cribs, and rollaway beds to always know where all assets are. If something is in a peculiar location, that could be an indication that something may be out of place and that more than one staffer should check it out to ensure everyone stays safe.
Far too many Hospitality employees have experienced unwarranted harassment on the job. The industry is moving in the right direction now that AHLA has made preventing these encounters a top priority and state legislators are working to incentivize hotels to implement safety devices.
Together, Allbridge and TraknProtect are committed in their partnership to making sure that all Hospitality staff feel safe every day in their place of employment. A culture of safety helps employees stay safe and comfortable—which translates into delighted guests and a healthier bottom line.