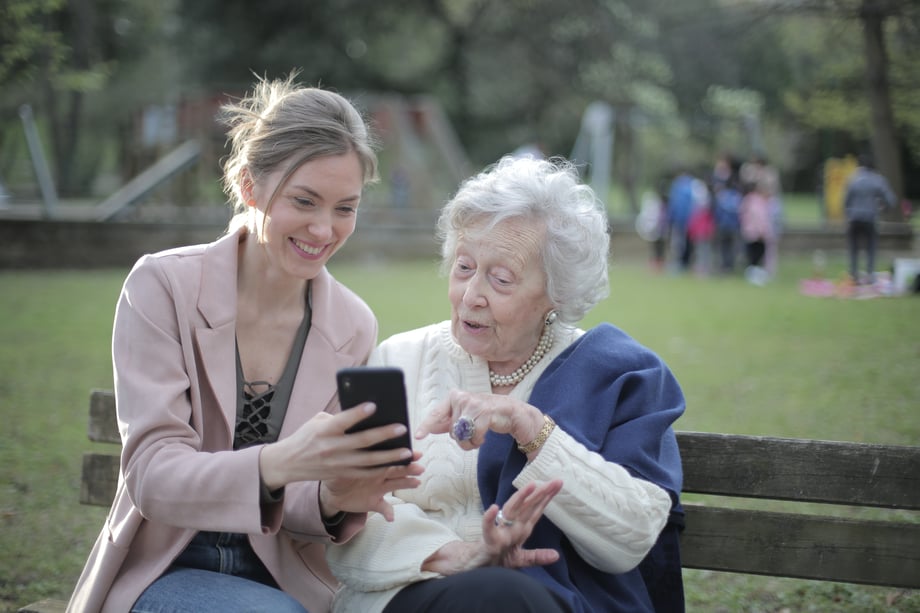 It is clear that a multitude of industries have been turned on their heads this year. According to Stanford research, 42 percent of the U.S. labor force is now working from home full-time. In fact, another 33 percent are not working, leaving only 26 percent, mostly essential service workers, working on site. In addition to telecommuting, many are using virtual means to stay safely connected to friends and family as well. This historic shift to working and socializing from home was critical to prioritize health and safety, and led to a technological boom – with people from all walks of life learning to use tools like Zoom for the first time, from 8 years old to 80 years old.
Seven months have passed since the coronavirus pandemic began to affect the U.S., and most states have continued in their gradual plans to reopen, but unfortunately the threat of COVID-19 and its effects have not disappeared, especially for older adults in senior living communities. The vast majority of these communities remain closed to visitors, with limited reopening efforts in states like Florida reportedly "hard to navigate."
Seniors in particular are at risk for the effects of COVID-19, which has put pressure on senior living communities in and of itself. But on top of that, restricting building access to only employees and medical personnel has resulted in increased isolation for a population that already struggles with loneliness. Unfortunately, many communities were not equipped to support the shift to the virtual world – not because residents were unwilling to adapt, but because the communities lacked the foundational technological requirements.
In The 2020 Senior Living, COVID-19 and Technology Survey and Report, conducted by Senior Housing News in partnership with global health technology firm Philips, 87% of respondents said their organizations will increase their tech budgets in 2021 to implement the appropriate technology solutions for COVID-19 and beyond. However, fewer than 30% of respondents reported having technology a plan in place, despite knowing they need one. So what is the aim of these investments?
In which of the following technology categories do you plan to increase your investment

in 2020 and 2021 as a result of COVID-19? (Check all that apply)
45% - Virtual activities and engagement for residents

35% - Virtual tours

33% - Telehealth and remote patient/resident monitoring

29% - Resident safety / emergency call / wander management

28% - Infection control / contact tracing

23% - Sales and marketing

22% - Staffing management

11% - EHRs

2% - None
According to the report, senior living organizations are investing in virtual technologies as a result of COVID-19, led by virtual activities, virtual tours, and telehealth. In previous years, a common deterrent for investing in modern technology for senior living operators was the fear that residents would lack interest, or be slow to adapt. However, the pandemic has shown us a notable spike in older adults' usage of things like video calls and social media. According to Buckner Retirement Services, more than half of residents surveyed expressed the desire to continue using these technologies beyond the pandemic.
"If one of our lessons learned from this is ways to keep people healthier and safer, especially our most vulnerable older adults, then I want the new normal," says Cindy Phillips of K4Connect. "If other lessons are that we need easier ways to quickly communicate and keep people informed, ways to digitally connect them with their friends and family, ways to provide virtual access to medical professionals, ways that everyone, no matter your age or socioeconomic class, can have these options, then I want the new normal."
But some communities were simply not prepared for this shift to an era of connected senior living: Over a third of communities reported having poor or nonexistent Wi-Fi and bandwidth capability. Another 30% cited physical infrastructure in their buildings as the top challenge. Robust internet access is now a must-have for providers, says Laurie Orlov, the founder of Aging in Place Technology Watch:
"If you go into a community… and there's no Wi-Fi in the room, people will not put up with that," Orlov said. "They may never have asked about it before, but the tour is going to have to include it."
According to Majd Alwan, senior vice president of technology and business strategy and executive director of the LeadingAge Center for Aging Services Technologies (CAST), the past few months have been a "baptism by fire" in using technology for senior living. "A lot of the providers that were skeptical about the value of internet connectivity now see why it needs to be available," Alwan told Senior Housing News. In order to keep up, senior living operators will need to develop a plan to ensure their technology offerings are up to date.
"Look at your technology priorities. This list should not be a collection of disparate projects, but should instead be a roadmap toward a tech platform and partner that can grow with you as you achieve your goals," says Jason Broad, Senior Living Solutions Leader at Philips. "Your partner should leverage the power of the cloud to translate your care data into actionable insights and help you deliver better overall resident care."
Implementing new technology can seem daunting for many property managers. Working with the right provider that you can trust as a partner can ensure that your network is designed, installed, and managed properly, and scalable to adjust to your needs as they evolve – and leading providers can offer modern tools to position your community for today and the future.