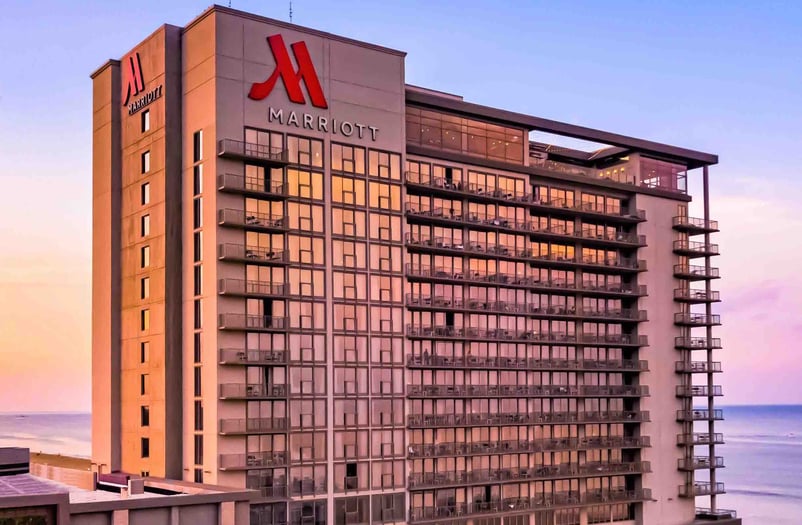 Guest Wi-Fi is the number one ranked property amenity among travelers, and with the proliferation of devices and streaming demands, network expectations continue to rise. Robust and dependable connectivity has become a top priority for most hotel brands.
Surveys have shown that inadequate high-speed Internet access (HSIA) has one of the biggest impacts on guest satisfaction, and with online resources available that rank hotels based on Wi-Fi aptitude, a poorly maintained network could decrease RevPAR.
Marriott Global Property Network Standards (GPNS)
Marriott was one of the first brands to mandate specific data network requirements company-wide, and they regularly review usage and industry trends to set annual HSIA standards.
To help enforce the brand's standards, Marriott developed the Global Property Network Standards (GPNS) Certification program for HSIA. An elite group of industry leading vendors participated in a strict qualification process that included thorough product and service testing and evaluation.
The GPNS certified providers are continuously evaluated and graded by Marriott Corporate based on the design and installation of the network systems, as well as the technical support provided post-implementation. Additionally, Marriott awards tiers within the GPNS program. For example, Allbridge received the top tier of certification, Fully Converged Back Office Management.
The Marriott GPNS program is monitored and regularly adjusted to align with current industry demands to ensure an optimal guest experience and support the company's strong reputation for reliable guest Wi-Fi. The minimum bandwidth standards are set based on the sizes and locations of hotels. There are additional considerations for high volume areas with increased consumption.
Is Your Marriott Compliant?

The most recently released GPNS version requires that all Marriott properties, including the Starwood portfolio of brands with GPNS versions 2013 or older, must upgrade to the current HSIA standard. If you haven't upgraded your network in the past three years, you likely are due for an upgrade to maintain brand compliance. If you are unsure, you can email
marriott@allbridge.com
to have your network evaluated.
What to Look for in a GPNS Certified Partner
There are several important factors to consider when choosing a Marriott GPNS approved partner. First and foremost, make sure you evaluate vendors who have been previously designated by Marriott as GPNS certified in order to ensure that you are meeting compliance requirements. GPNS certification also ensures the provider will be held accountable for the network and technical support being provided.
Additionally, you should research the company's level of experience in GPNS certification, network design, implementation, and project management to be certain you receive an enterprise-grade solution that is custom-engineered to properly distribute signal throughout your entire property.
The GPNS provider you choose should provide an admin dashboard such as Skyway to monitor the health of your network, and provide you with reporting tools so you can evaluate and control bandwidth usage.
Lastly, you should carefully evaluate the provider's support network—around-the-clock technical support is critical to the guest experience, as well as the availability of responsive, on-site technicians in any part of the country should the need arise.
Interested in Learning More?
Allbridge is a trusted GPNS certified partner of guest Internet access solutions for Marriott. After participating in a strict qualification process, Allbridge received the highest level of GPNS certification, Fully Converged Back Office Management. With a vast portfolio of hundreds of Marriott customers in all parts of the country, Allbridge has extensive knowledge and expertise in Marriott GPNS.
To learn more about GPNS solutions from Allbridge, contact us at marriott@allbridge.com.