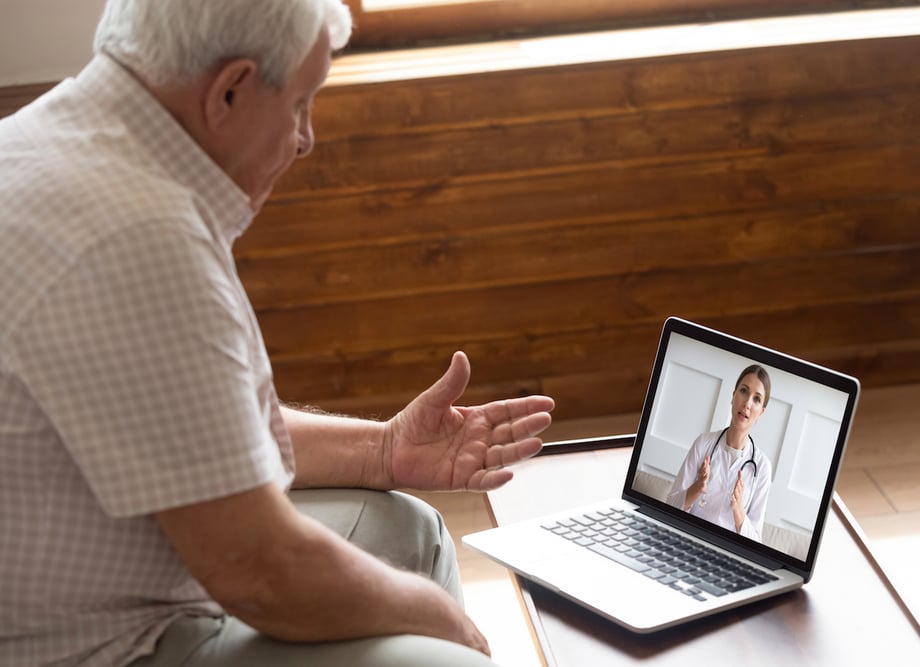 The senior living technology boom has been a long time coming. Tech was not always a priority for older adults, but in recent years, usage has skyrocketed among seniors. More seniors are moving into communities with smartphones, tablets, laptops, and other wireless gadgets, and the number of devices will only increase as time goes on. The shift towards connected communities has been gradual—when the pandemic hit, however, the industry was forced to jump headfirst into modern technology in order to keep residents safe and healthy while maintaining their quality of life and mental health.
Some communities were fortunate enough to be ahead of the curve, and have been able to utilize their existing technology to provide Zoom calls and virtual activities for residents. For the past year, we at Allbridge have been flooded with requests on how to best utilize our video distribution systems to communicate with residents and deliver entertainment beyond normal television programming. Some communities, however, were simply not prepared for this shift to an era of connected senior living. According to the 2020 Senior Living, COVID-19 and Technology Survey and Report, over a third of communities reported having poor or nonexistent Wi-Fi and bandwidth capability.
This crisis has shown that the technology that keeps residents connected to family, the community itself, and entertainment is not a nice-to-have, it is a must-have. There are three core technologies that are necessary in senior living communities today:
High-Speed Internet
A community without reliable, high-speed Internet access can isolate its residents further, and HIPAA compliance for secure connectivity is critical. These days, telehealth is a vital option to avoid in-person doctor visits, and staying virtually connected to family and friends is more important than ever. In addition to keeping residents connected, a good network also allows communities to take advantage of Internet of Things (IoT) devices that can improve quality of life like voice recognition solutions, safety sensors, and smart home technology for security cameras and thermostats. On top of that, implementing community-wide Wi-Fi has the potential to be budget neutral–or even create profit.
Video Services
For years, the television offering in senior living communities rarely went beyond a standardized cable package. It was viewed as little more than a utility. However, more operators today are realizing that modern video services have evolved and are now considered an amenity. Instead of a standard package, communities can now provide a hand-picked lineup of HD channels, as well as a customized community channel that serves as a place to share announcements and information about community activities.
As more Baby Boomers move towards retirement, expectations for modern video services will continue to rise. Communities can prepare to match these expectations by offering on-demand content and streaming capabilities, providing residents with the same level of entertainment many were accustomed to in their homes.
Cloud Voice
In addition to residents' in-room phone services, senior living communities need a dependable phone system for property management and organizational needs. Voice solutions that are hosted in the cloud are becoming more common as property administrators look to leverage the community's high-speed data, and these solutions provide the reliability of an on-premise system without the need to own and maintain traditional hardware. Cloud voice keeps your residents from paying local and long-distance charges, and delivers other features to the community such as customized messaging for reminders and community updates, built-in failover in case of a network outage, and E911 capabilities for one dispatch location. Additionally, residents can easily port their existing phone number.
Using Fully Managed Services
For many operators, upgrading and managing their community's Internet, video, and voice services can seem daunting and expensive. Luckily, there is the option to partner with a managed services provider instead of handling technology setup and management in-house. A team of experienced professionals will design and install the network, and all of the equipment, installation, and support costs are covered in a single, monthly price. On top of that, solutions are monitored 24/7 and are always up-to-date thanks to cloud-based updates.
Platforms like Allbridge's Vista are designed specifically for senior living properties, and integrate all data network, video, and voice technologies to connect staff and residents. This fully supported managed service offering reduces capital expenditures and long-term operating expenses while offering the flexibility and expertise to support your community as demand changes. With a secure data network designed for HIPAA compliance, modern in-room entertainment for residents, and reliable cloud voice services, Vista offers a simple answer for communities looking to shift their priorities to tech in 2021.