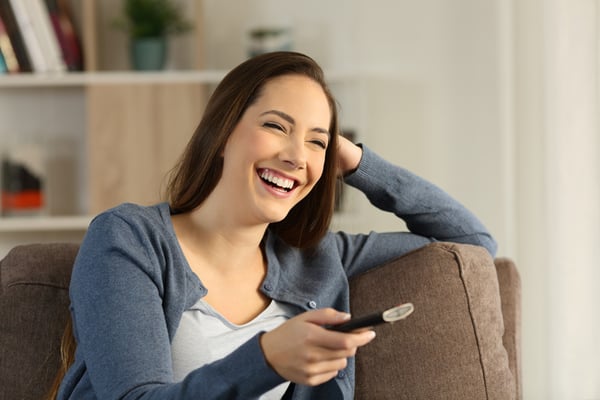 In 1947, the Roosevelt Hotel in New York City became the first hotel in the world to feature television in every guest room.
Since then, it's been pretty much impossible to run a successful hotel or senior living community without giving guests and residents access to TV.
For the best results, property managers need to partner with authorized integrators skilled in their industry and installers who have strong relationships with leading television programmers. These providers have the technical expertise and experience needed to ensure they can deliver an exemplary entertainment experience every day of the week.
Allbridge has established trusted partnerships with several electronics manufacturers and content providers that enable us to help property managers like you bring today's leading entertainment options right into your guests' and residents' rooms.
For example, our partnership with DIRECTV makes it easier than ever for hotel and healthcare property owners to find the exact packages they need to deliver exemplary guest experiences. As a leading provider of DIRECTV programming, we offer a customized content solution to meet your needs.
Wide Variety of Offerings
Partnering with DIRECTV has enabled us to expand our product portfolio, which makes it easier for managers to create the perfect content package for their guests and residents. Allbridge offers a turnkey solution that is scalable with the growth of your property.
For example, our customers can choose between two options:
Our free-to-guest (FTG) DIRECTV offerings might include a centralized enterprise grade headend system that delivers an à la carte channel lineup without requiring additional in-room equipment that is scalable to meet future technology needs, or the DIRECTV Residential Experience, which boasts over 100 high-definition channels and features such as an interactive program guide and welcome screen.
Our over-the-top (OTT) solutions enable guests to enjoy premium content and popular apps such as Hulu and YouTube, or any number of apps available on commercial grade smart TVs from Samsung or LG.
Our long-standing experience in the hospitality and healthcare industries means that we'll be able to design your system to your property's standards.
Lower Total Cost of Ownership
There's no sense in paying more for your video services than you need to. Allbridge customers pay one low rate per room per month.
In addition, we also have a partnership with Samsung that enables us to deliver DIRECTV through commercial-grade televisions. We pass on Samsung promotions to our customers for even more savings.
A Reliable and Robust Service
We design, build, and test our own systems. We'll also install your DIRECTV system, leveraging whatever existing infrastructure we can to deliver additional savings. Our solutions are flexible and scalable, so you won't have to worry about going back to square one in a few years.
Add it all up, and you'll be hard-pressed to find a more reliable and robust service for your property.
Installation Support and a 24/7 Customer Support Center
Our technical team is committed to seeing projects through from conception to completion, which includes installation and ongoing support services.
Our qualified, SBCA-certified technicians will help make sure your system is up and running as it should be. And if you ever run into a problem, our staff is available 24/7/365 to help you get your systems back online as quickly as possible. We also have a wealth of resources available online so you can do some troubleshooting on your own.
Industry Experience You Can Trust
Allbridge formed when Bulk TV & Internet, DCI, and EthoStream merged to deliver one connected experience to hospitality, healthcare, and higher education properties.
For decades, Bulk TV has provided FTG DIRECTV services to more than 5,500 properties nationwide. Now known as Allbridge, the company continues to be one of the largest DIRECTV providers to hospitality and healthcare properties.
In addition to favorable prices, a variety of options to choose from, robust and reliable service, and a level of support you won't find anywhere else, Allbridge also brings the experience and expertise necessary to give each of our customers peace of mind during installations and migrations.